Family ~ Like branches on a tree we all grow in different directions.....but our roots remain the same.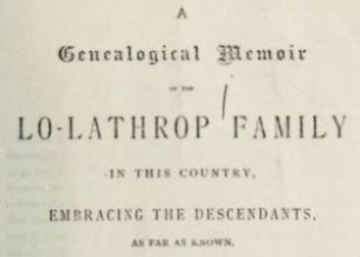 A useful resource documenting the early known Lathropes in the United Kingdom

---

The Descendants of
William Lathropp & Joane Tresise
Welcome. This tree focuses on the descendants of William (b 1587) & Joane Lathropp (b 1636) whose families have spread to all corners of the globe from the small Devon market town of Ottery St Mary.

I find it an interesting stroke of luck that any one of us are here to view these pages. Imagine, if you will, if one of our ancestors was removed from our family tree how many persons would not have been born. Each one of the persons listed in our family tree has a unique story to tell. You, too, can help with these stories by adding information that is missing from what you find here!

This is and will always be a work in progress. I will continue to add information as I come across it. I encourage you to add what you can to help give a fuller picture of all our ancestors.

You are welcome to browse this website with the guest account although access is restricted to deceased persons only. To use the guest account you should use these credentials:
Username:      Guest
Password:       Tryit
I hope you find the site of use & very much enjoy your visit.
Top 100 Surnames in Our Lathrope Family Tree